As with any other dimensions, you can also promote a User dimension to become a filtering option on your Criteria bar.
Right click the User dimension to add it to the Criteria bar: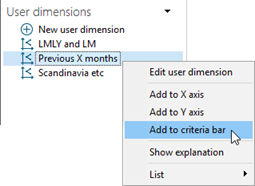 This feature is great value, especially when working with User dimensions with custom Dynamic criteria:

Notice: You cannot add Local User dimensions to the Criteria Bar. A User dimension must be Shared before it can be added to the Criteria Bar.
Multi-select user dimension members
In example above, the user dimension members can only be single-selected (the radio buttons).
To be able to multi-select user dimension members, you must enable 'Multiselect' when designing the user dimension:
To allow multi-select on a user dimension, it must adhere to these rules:
The members must be designed from the same dimension.
The operator must be either 'equal to' or 'between'.
The members of the user dimension must use the same operator. I.e. you cannot have one member using the 'equal to' operator while the other members use the 'between' operator.

Often, an 'equal to' operator can be changed to a 'between' operator, if necessary. Example: Equal to 'This month' can be changed to Between 'This month' and 'This month'.

Member properties does not work together with multi-select.