Note: All information on this page is 'Subject to change'. The information you see here is TARGIT's best guess on what we expect to include in this release. However, there is no guarantee that all - or any - of these issues will actually be included in this release.
Expected release date: 1st December 2022 (subject to change)
New features
Release notes
With this release, the TARGIT Designer Client requires the Microsoft Edge WebView2 component.
This component is by default part of the Windows 11 operating system. It may also be installed on older operating systems as part of a Windows Update.
The TARGIT installer will check for the component during installation or upgrade of the TARGIT Designer Client. If the component is found to be missing, the end-user will be prompted with an option to download and install the missing component: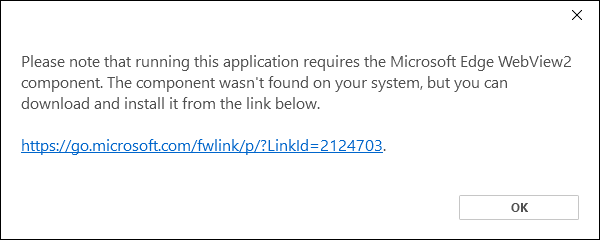 For the data drivers, please note that the data drivers below have previously been based on .NET framework 3rd party .dlls. With the 2022 Winter release, the import engine has been moved from the older .NET framework to the new .NET 6 framework requiring everyone running the drivers below to point to a new .NET 6 based .dll - if this driver is available for the data source.
TARGIT DB2
IBM DB2 (iSeries)
IBM DB2
MySQL
Oracle
PostgresSQL
SAP SQL Anywhere