In general, a KPI object is an object suitable for displaying high level, current values of important measures.
While focus is on the measure value itself, proper use of additional text, images and color could further support the presentation of the value.
A KPI object is limited to a maximum of three measures. However, if more are needed, you would simply insert as many KPI objects to your analysis as you need.
When you start designing a new KPI object, it will default to a single-value KPI object. So, one of the first things you would normally want to do, is to go into Properties to change the KPI image: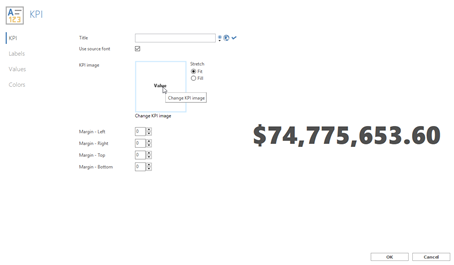 Notice that a TARGIT installation comes with a set of pre-defined KPI images – organized in two folders, System images and System images with icons. You can in fact add you own images (SVG images) in the Images folder root, or in a new folder you may have created for that purpose.
The pre-defined System images folders contains different variations of KPI images that has been designed to show 1, 2 or 3 measure values.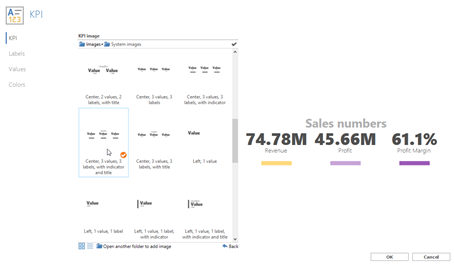 In this example, we have chosen a KPI image with the maximum number and types of elements. Any KPI image can work with maximum:
One Title
Three Values
Three Labels
Three color indicators – which can be controlled through Color agents.
Note: If you need to display multiple KPI values on your dashboard, you may consider to add these as single-value KPI objects rather than multi-value KPI objects. With the ability to freely arrange objects – overlapping and transparent – you can, in many cases, obtain better results with multiple single-value KPI objects.
KPI images works with a default font type, as defined in the source SVG file. However, disable it to select your own custom font: