By creating these partitions, we have achieved two things:
When querying for data from 2012 Analysis Services will only have to examine our new partition and not the full database
We can create an SSIS package for each partition and create individual jobs to execute them with different frequencies
Our SSIS package can quite easily be configured to update a certain Partition.
First step is to take a copy of our current SSIS package. From now on we will need at least two packages (one per partition).
This is done by simply right clicking and copy-and-paste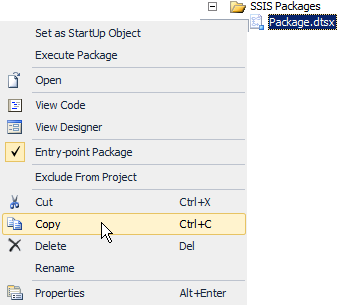 After Copying we rename the packages:

In the Analysis Services Processing Task we have to make a minor adjustment.
On the second tab (Processing Settings) we remove the current object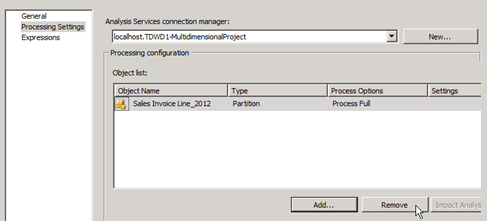 Then we add it again and expands the Sales Cube to set a checkmark at this particular Partition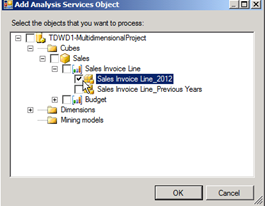 The dimensions should still be processed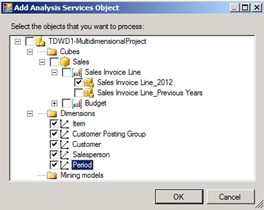 Repeating this process for the other SSIS-package (and setting the checkmark at the other partition) we now have two packages ready for scheduling.
We switch to SSMS Database Engine...
...and create a new job
Name it the new partition update

We click the second tab Steps...

...and create a New step
This first (and only) step of the job needs to be configured.
Give the step a name
Choose Type=SQL Server Integrations Services Package
Choose Package Source=File system
Locate the right Package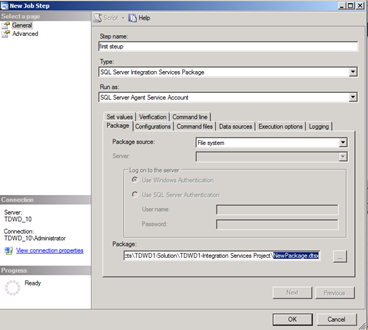 Finally, on the Schedules tab...

We create a Schedule for this particular package.
Repeating the process we create a similar job to execute the other package on a different frequency.
Expanding jobs we should be able to see both jobs.