What is it?
The Data Gateway serves multiple purposes. Some of the tasks that are covered by the Data Gateway can also be covered in other ways, while other tasks require the use of the Data Gateway.
You can use the Data Gateway to connect to On-Premise data sources. Once you've set up the connection to a data source, you can then refer to that connection in TARGIT Management and reach a data source that is on-premise, while you are using our cloud software
This task can also be done by adjusting the firewall settings on the server where your on-premise data sources are located. Currently this is actually the recommended way of setting up a permanent connection to an on-premise data source


You can use the Data Gateway to set up export folders that can be utilized in scheduled jobs that deliver PDFs, snapshots, excel/csv files in an on-premise folder.
You can theoretically do this in other ways, but currently this is the recommended way of setting up connection to on-premise export folders in TARGIT Cloud


You can use the Data Gateway to set up on-premise folders that Data Discovery uses for data sources when you are using TARGIT Cloud.
You can do this in others ways - but currently this is the recommended way of setting up on-premise folders that are used for Data Discovery in your TARGIT Cloud solution.
Where can I get it?
When you log on to your TARGIT Cloud Control Panel, you have 3 links in the bottom - one of them being Download: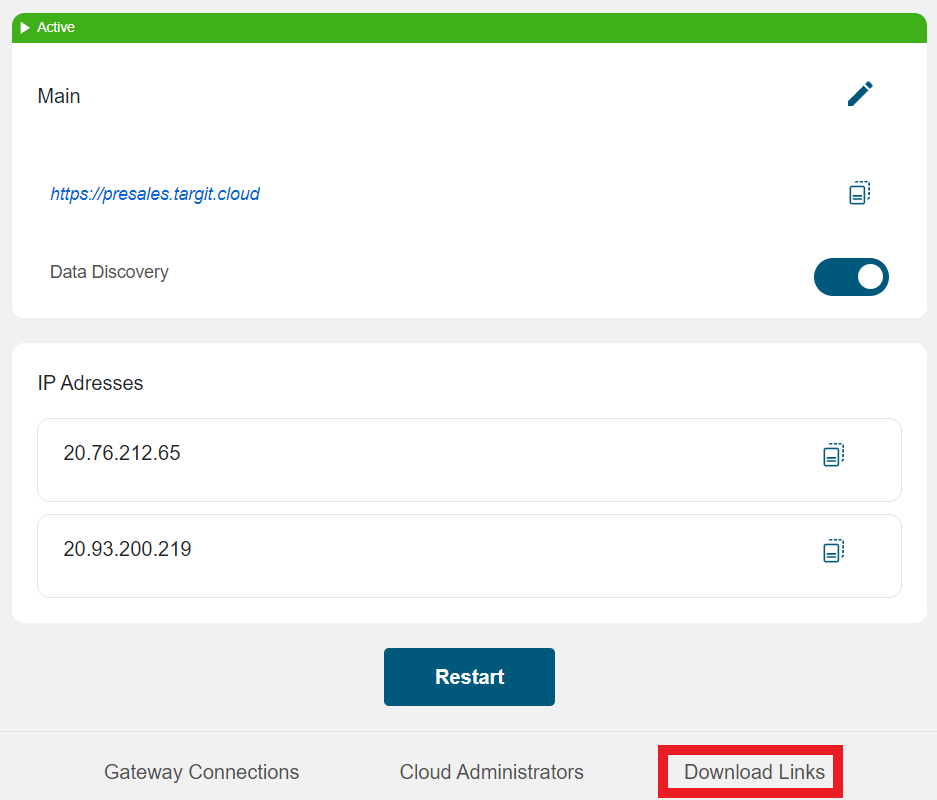 By clicking this, you get access to (among other links) the gateway: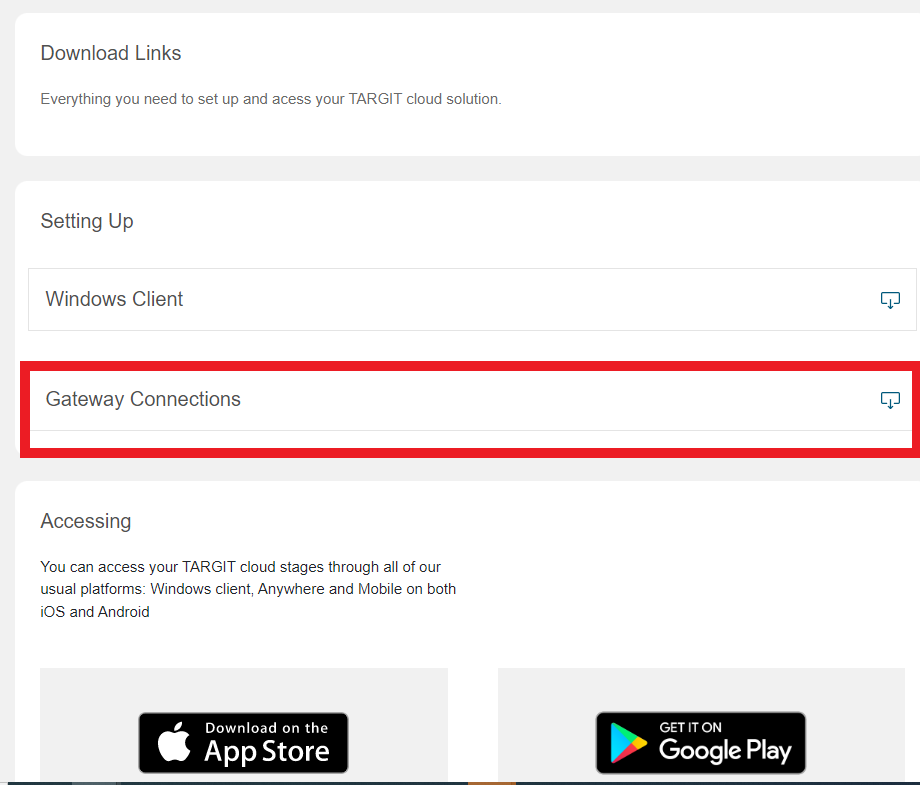 When clicking the Gateway connections, a download will automatically begin - once it is done you can double-click this file to start the installation:

If you get this - just click more info: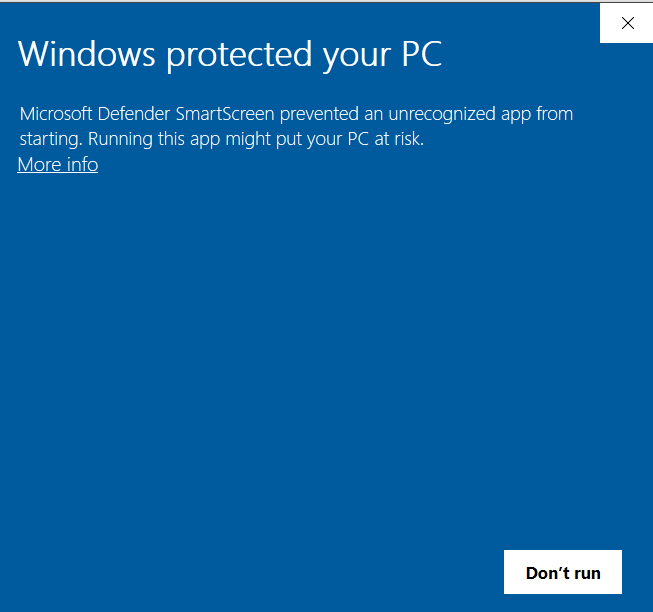 and Run Anyway:

Now agree to the license condidtions and click Install: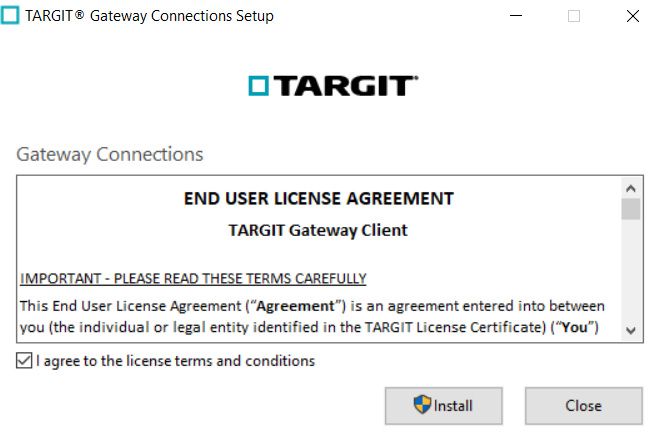 Now the Gateway installs.
How-to use it
Connect to on-premise data sources
The Data Gateway runs as a service - just like the TARGIT server in an on-premise solution:

The account that runs this services (in the example above: Local System) needs read rights to every data source you wish to access through the Data Gateway.
Now start the Data Gateway with this short-cut:

The main dialogue looks like this: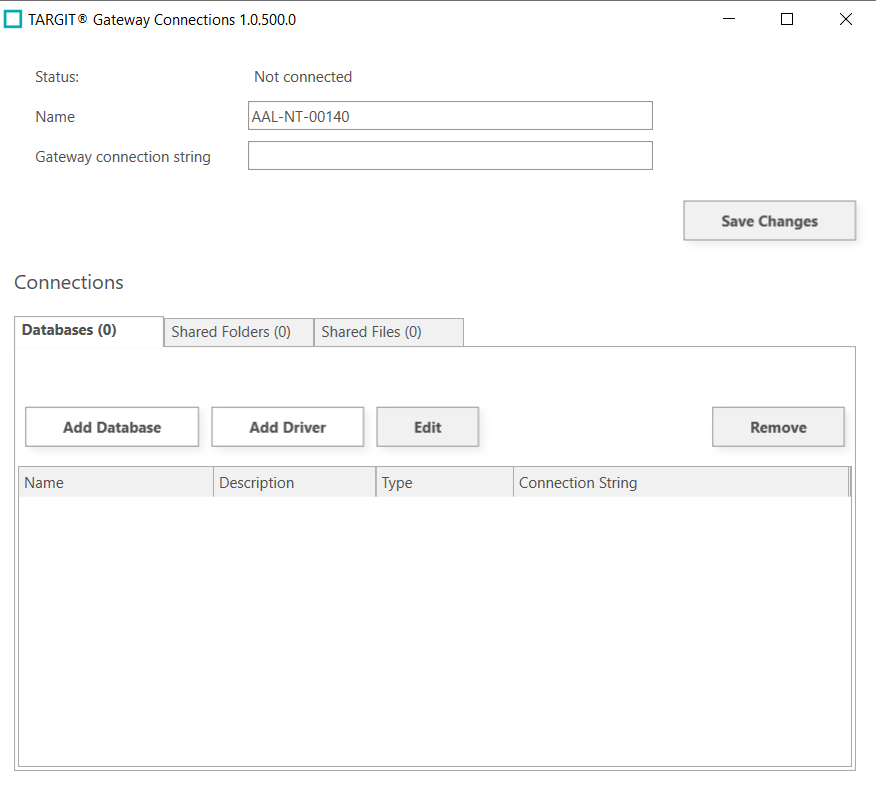 The name field could be kept as server name
The Data Gateway Connection string needs to be copied from your Cloud Control Panel - and this is how you Data Gateway connects to your cloud environment.
Example of connection string from Cloud Control Panel:

The 3 tabs - databases, shared folders and shared files represent the functionality covered by the Data Gateway.
1. tab Databases...
...is where you make a connection to your on-premise databases, relational or analytical databases. If needed, you can also install drivers for your database connections
Here you can connect a connection to a database -like this example: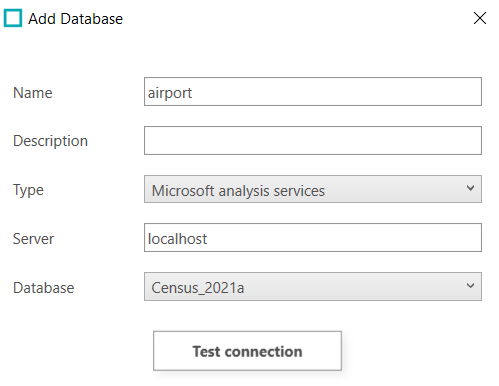 Now you can use TARGIT Management - and refer to the connection mentioned above - connecting through the Data Gateway: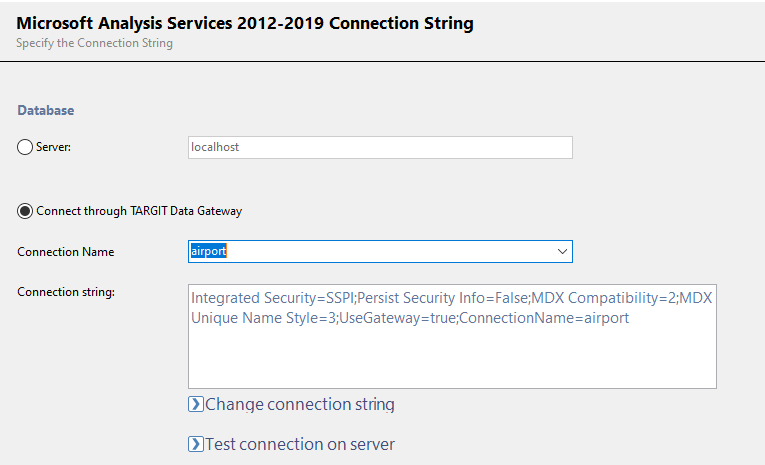 2. tab Shared Folders...
...is where you setup folders that can be used for export from scheduled jobs or/and used as input for your Data Discovery in the Cloud Environment.
Here you can add new local export folders, meant to be used in your cloud implementation of TARGIT: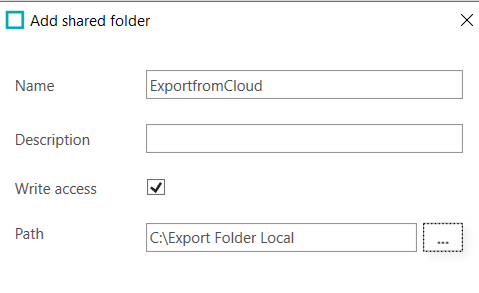 When you open TARGIT Management and pick the export folder tab, you can now add an entry that refers to your Data Gateway setup: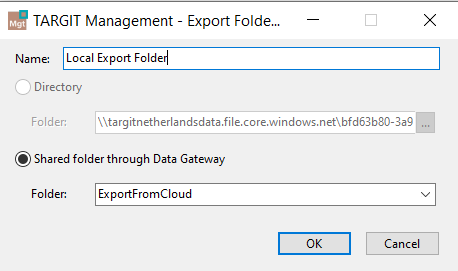 Now this export folder is available in the Windows Client for scheduled export jobs.
3. tab Shared Files...
...is where you setup access to files that are used as input in the Data Discovery running in your Cloud Environment