What is it?
Using this plugin allows you to get exchange rates - both current and historic from a date span of your choice.
You choose which currency should be the base rate, and then you pick the currencies you would like to get exchange rates from.
Note: This plugin uses a plan with a limited number of queries against the database. If you exceed this limit, please purchase your own plan at https://fixer.io/plan and enter your APIKEY in plugin settings.
How to connect to European Central Bank through Data Discovery?
Before actually looking at the data source dialogue - we need to look at Data Discovery settings, which is located in the top right corner of the data source overview (marked with red square):

Now you pick the plugin tab and choose European Central Bank:


Here you see an APIKEY (the one shown above doesn't allow queries to the ECB).
When you run out of queries for the limited plan and buy access through the link mention in the note earlier, this is where you type in your new APIKEY.
In the dialogue for setting up the actual data source you have a number of options: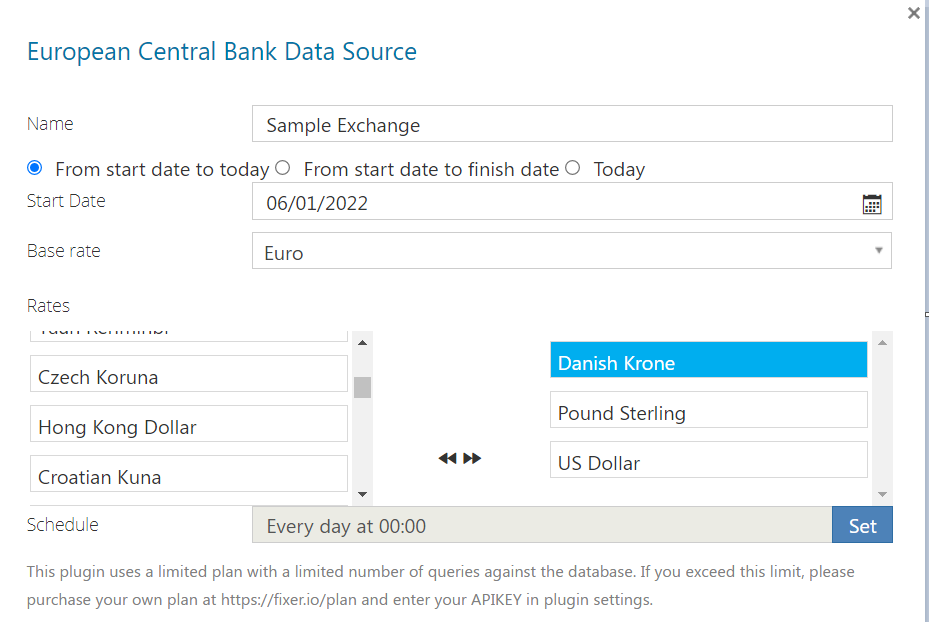 Set the date span for a certain period - or only for today
Decide which currency is considered the base rate
Decide which exchange rates should be shown (based on the base rate)
Set a schedule to how often this data source should refresh