In this example I have two tables with different number of columns. Some columns do exist in both tables, but not necessarily in the same column position.
Table A:

Table B (notice the "wrong" position of Value2):

Desired combination of the tables A and B:

To recreate, create an InMemory project with a CSV data source (in my example, the original sources for Table A and Table B are two CSV files).
InMemory project, visual: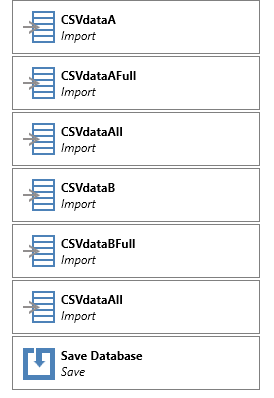 InMemory project, code:
LOAD ASSEMBLY 'TARGIT.Csv.dll' //server
DATASOURCE [CSV] = DOTNET CONNECTION 'TARGIT.CSV.CsvConnection' 'HasHeaders=true;loadasstring=false;type=local;delimiter=,;encoding=Windows-1252;culture=en-US;detectionrowscount=100;skiplines=0;'

IMPORT [CSVdataA] = [CSV].{SELECT * FROM [C:\Temp\CSVdata\CSVdataA.txt]}

IMPORT [CSVdataAFull] = [ME].{SELECT 
CAST(COLUMNEXISTS(Time,Time,null) as VARCHAR) AS Time,
CAST(COLUMNEXISTS(Value1,Value1,null) as VARCHAR) AS Value1,
CAST(COLUMNEXISTS(Value2,Value2,null) as VARCHAR) AS Value2,
CAST(COLUMNEXISTS(Value3,Value3,null) as VARCHAR) AS Value3,
CAST(COLUMNEXISTS(Value4,Value4,null) as VARCHAR) AS Value4,
CAST(COLUMNEXISTS(Value5,Value5,null) as VARCHAR) AS Value5,
CAST(COLUMNEXISTS(Value6,Value6,null) as VARCHAR) AS Value6
FROM [CSVdataA]}

IMPORT [CSVdataAll] = [ME].{SELECT * FROM [CSVdataAFull]}

IMPORT [CSVdataB] = [CSV].{SELECT * FROM [C:\Temp\CSVdata\CSVdataB.txt]}

IMPORT [CSVdataBFull] = [ME].{SELECT 
CAST(COLUMNEXISTS(Time,Time,null) as VARCHAR) AS Time,
CAST(COLUMNEXISTS(Value1,Value1,null) as VARCHAR) AS Value1,
CAST(COLUMNEXISTS(Value2,Value2,null) as VARCHAR) AS Value2,
CAST(COLUMNEXISTS(Value3,Value3,null) as VARCHAR) AS Value3,
CAST(COLUMNEXISTS(Value4,Value4,null) as VARCHAR) AS Value4,
CAST(COLUMNEXISTS(Value5,Value5,null) as VARCHAR) AS Value5,
CAST(COLUMNEXISTS(Value6,Value6,null) as VARCHAR) AS Value6
FROM [CSVdataB]}

IMPORT [CSVdataAll] = [ME].{SELECT * FROM [CSVdataBFull]}

SAVE