Enable/disable the Criteria bar with F10.
To add a dimension to the Criteria bar, right click the dimension in Source data and select 'Add to criteria bar':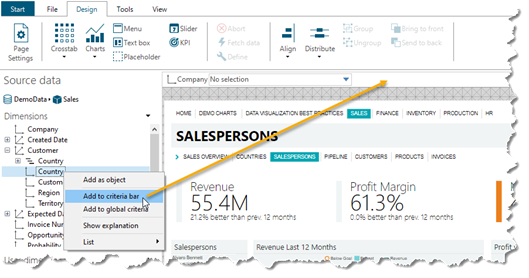 From the Criteria Bar, we may now choose dimension values to filter data in the analysis.
Tip: To pick just one value from the list, click the name of the dimension member. In this way, the dimension member will immediately be applied as a global criterion.

Tip: Use the check boxes only to pick multiple values from the list. Complete your selection by clicking the dimension's "Apply" button in the Criteria Bar.

To remove Global Criteria from the Criteria Bar, select No selection from the criteria drop down list. "No selection" means "No filters" or "No criteria".