As with any other dimensions, you can also promote a User dimension to become a filtering option on your Criteria bar.
Right click the User dimension to add it to the Criteria bar: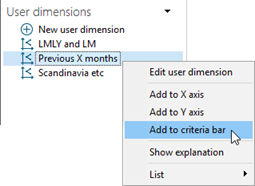 This feature is great value, especially when working with User dimensions with custom Dynamic criteria:

Notice: You cannot add Local User dimensions to the Criteria Bar. A User dimension must be Shared before it can be added to the Criteria Bar.