You can export full documents or individual objects.
To export the full document, use one of the options from the File menu:
Image – creates an image file (png, jpeg or bmp) of the dashboard that can be saved to disk.
Email – creates a new email from your email client and attaches an image file (and a screenshot) of the dashboard to the email.
Excel – creates an Excel file that can be saved to disk. Each object is converted to table data and exported to separate sheets in the Excel file.
PowerPoint – creates a PowerPoint file that can be saved to disk.
PDF – click the Print
Notice: Click the small black triangle if you want to change the default settings for each of these exports.
You can also export data from a single object by right clicking the object and selecting Data / Export.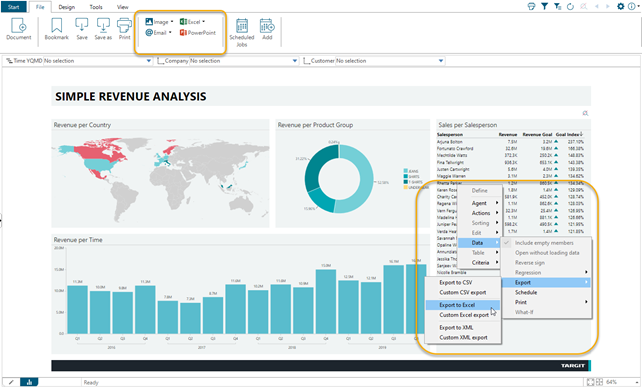 Both Excel options will immediately open Excel with the exported data. If the selected object is a graph, the crosstab basis for the graph will be exported.