Another special usage of a User Dimension is the benchmarking analysis.
In this case you will want to compare, or benchmark, a selected dimension member to all the other dimension members within the same dimension.
To do this, you can work with a user dimension with two members: One user dimension member to always show all dimension members, and another user dimension member to only show the selected (benchmarked) dimension member.
Note: The user dimension has to be a local user dimension (added from the Source data Smartpad). It cannot be a shared user dimension (added from the Tools menu), as these requires at least one member with criteria applied to it.
In fact, both members are created as members without criteria. To create such a member, you simply click "OK" right away in the Add criteria dialog you see when adding a new User Dimension member: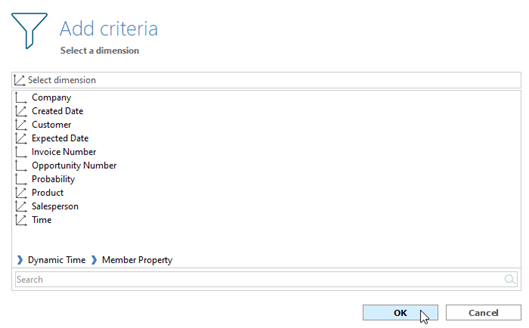 You should probably rename the two members to e.g. "All" and "Selected". Remember to check/remove translations as you do so.
Furthermore, the All member should be set to ignore criteria coming from the dimension we will use for benchmarking. This is to make sure that the All member always shows all members from the dimension.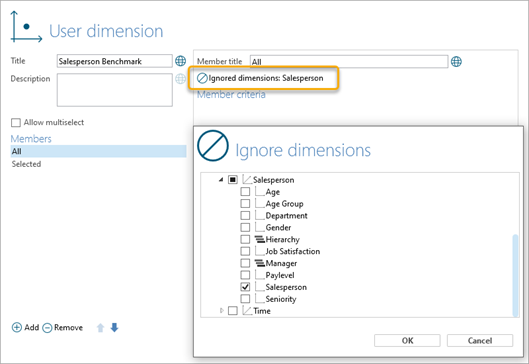 The other member, the Selected member should be set up as a member without any criteria or criteria options at all. In this way, it will always respond to whatever criteria (global, local, drill down) is applied to the object.
In the example below, Justen Cartwright has been selected as a global criteria for the drop down list in the criteria bar.
The two columns in the crosstab represents the two members of the benchmark user dimension. Notice that the All column shows all salespersons (due to the ignore setting), and that the Selected column only shows data for the selected salesperson.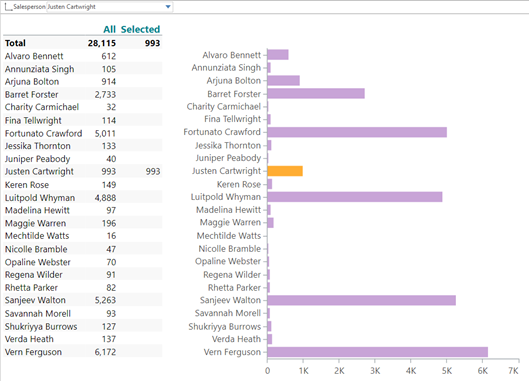 The bar chart is actually just a copy of the crosstab. The visible bars are based on the All column. To hide the Selected column in the bar chart, you can work with Visibility to hide the second element in the benchmark user dimension.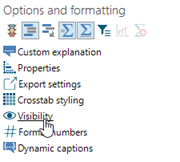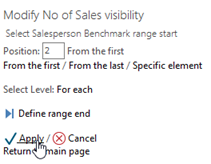 In this case, the second element of the user dimension is used only to identify the Selected dimension member and to add a color agent to that dimension member.