Add another crosstab to the analysis: Costs and No of Sales per Customer Country (Country).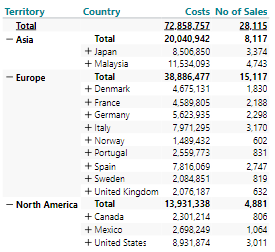 Add a calculation as a single column per Customer Country:
Costs per Sale = sum(d1, 0, m1) / sum(d1, 0, m2)
Now we will calculate what the level of costs is in other countries compared to the American numbers – a kind of US-index.
US index: sum(c1, 0, m1) / sum(c1, @"[North America].[United States]", m1)
Hide Costs, No of Sales and Costs per Sale through the Visibility formatting option.
Change the object type to horizontal bar chart.
The end result should look like this (bar chart on the right):

Note: Even if one of the levels in a hierarchy is hidden, e.g., the Country level of a Territory/Country/State hierarchy, it should still be included in the named reference syntax.