When the essential part of the Data Model, the table relations, has been done, it is time to look into how to create some shared dimensions.
When you create 'Shared dimensions', you define dimensions in a Shared dimensions folder, which will act as a dimensions repository when you later need to add some or all of these dimensions to one or more cubes.
To define a simple dimension with a single attribute, you can drag the relevant field from the table to the 'Shared dimensions' folder: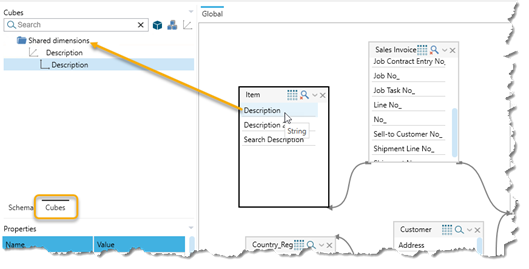 Notice: In the TARGIT Data Model Editor, all dimensions are treated as hierarchies. A dimension with a single attribute is in fact just a single-level hierarchy. If you add a second attribute to an existing dimension, it will automatically become the next level of the hierarchy.
As a consequence of this, if you need to create multiple stand-alone attributes from the same dimension table, these will need to be created as one dimension each.