The third and last option when inserting menu objects is to insert a Role based menu.
Different end-users can be members of different roles – and for each role, you can define a specific menu to be inserted as the Role based menu. The menu you select, must be one already stored on the system.
Role properties, including assigning specific menus to specific roles, are managed through the TARGIT Management client:

In the TARGIT client, you may now insert a menu as a Role Based menu in one or more of your documents. The inserted menu is then automatically selected according to the end-user's role properties.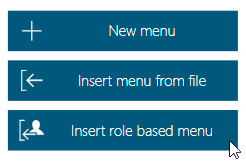 In other words, when one user (from one role) opens the analysis in which you inserted the role based menu, he or she will see one menu. When another user (from another role) opens the same document, he or she will see another menu.