TARGIT 2021 Summer - TARGIT 2022
The TARGIT Information Collector is a tool to ensure the best possible service when getting in touch with TARGIT Support.
When you create a new ticket with TARGIT Support, the TARGIT Information Collector will help providing all the trivial information about your system - such as TARGIT version number, Operating System info etc.
To activate the TARGIT Information Collector click in the upper right corner on the "i" symbol: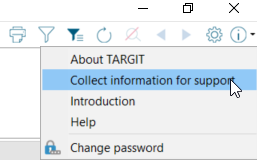 Now you get the option to "Collect information for support" which allows you to save a Zip-file that contains everything TARGIT Support needs to now.
The information is encrypted so only TARGIT support is able to read it.
This Zip-file needs to be attached to your support ticket and then our support can get right on it, having the necessary information ready from start.
If you're not able to log into TARGIT for some reason (that might be the issue that you want to report!), you can actually create this zip file from the login prompt: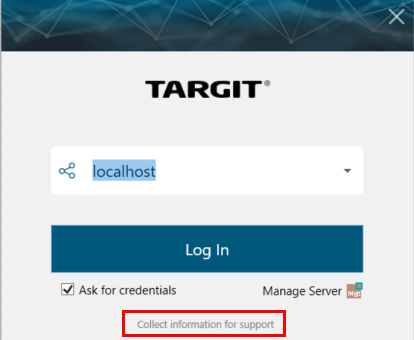 This will ensure that the majority of support tickets won't require messages back and forth asking for extra information, and thus speed up the support handling from TARGIT and lessen the burden on you as a customer.