You may have a special font that you would like to add to your TARGIT environment. This article tells you how to add new fonts to TARGIT.
In general, TARGIT supports these font types:
OTF (open type font)
TTF (true type font)
Also, installing a font is a standard Windows procedure: In a Windows Explorer, double click your font file to install it.
Platforms
You may need to install your font on several servers/computers:
On the server running the TARGIT Server.
On each user PC running the TARGIT Windows client.
On the server running the IIS with TARGIT Anywhere. (End-users using the Anywhere client only do not need to install the font.)
Cross platform font
Furthermore, to ensure that the font shows correctly in the Anywhere client, it is important that the font is set up as a cross platform font after it has been installed.
As a Designer user, when you open a 'Select Font' dialog (e.g., when working with Text box objects), you have an option to 'Manage cross platform fonts':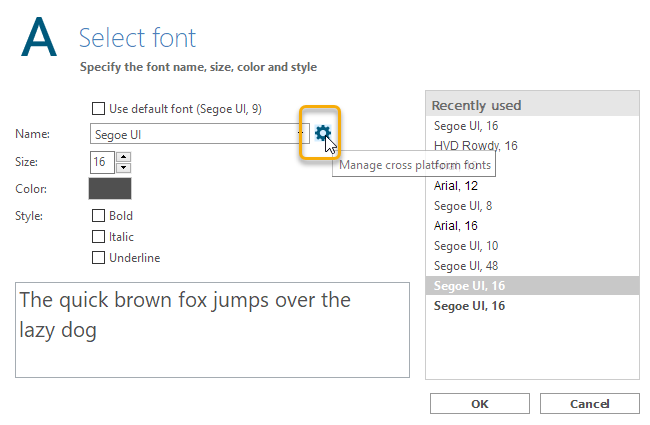 This will open the Manage cross platform font dialog where you should add your special font to the list of cross platform fonts: