In the License section of the TARGIT Management client you can get an overview of your current license.
Notice the number of Named users. The license is enforced in such a way that whenever a new user logs in, that user will take one of the available licenses. The license will not be freed when the user logs off.
The licenses to be taken will be according to the application permissions for that particular user.
If no more licenses are available of the required license type, the end-user will get a message that access is denied.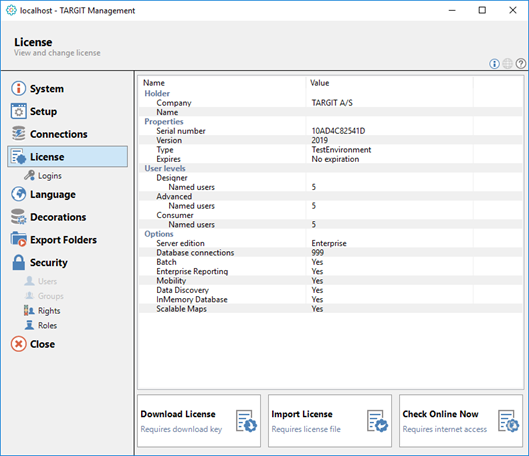 Updating a license
If you need to expand your current license or if you need to get a new license key, you should get in contact with your TARGIT Account Manager: New License key?
If it is just a matter of adding extra users to the license or extra options, the changes would normally be effective after you have contacted the TARGIT Account Manager. The TARGIT server will automatically check for, and implement any license changes every day between 23:00 and 00:00. You can also force it by clicking the 'Check Online Now' button.
If you have been granted a new license key - e.g., if the old one expired or you have upgraded your TARGIT solution to a new major version - you will need to use the 'Download License' button to enter the new download key.
The 'Import License' is only relevant if your TARGIT server is disconnected from the Internet, and, thereby, you cannot use the 'Download License' option. In that case, the TARGIT Account Manager should have send you a license file that you can import.