The Logins module of the License section in the TARGIT Management client offers some good options for getting an overview of license usage.
The main window is an overview of available, used and currently connected application users. If the used logins equals the available logins you have run out of logins.
Right click any row to display more detailed information about the logins.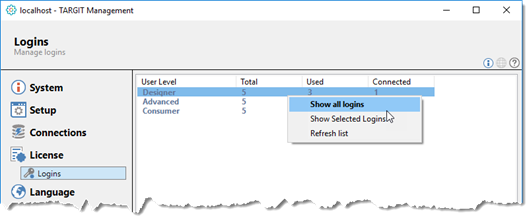 From the detailed overview you can see which users have taken which licenses. You can also see who is currently connected.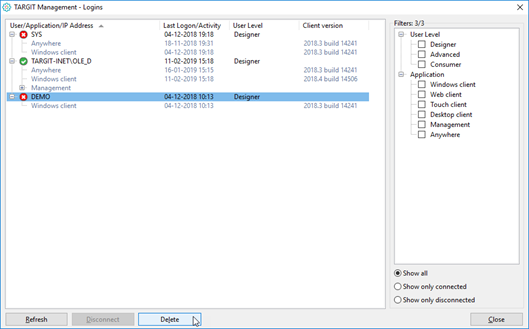 Remember that the license model is per named user, i.e. a license is taken whenever a new user logs on to the TARGIT Decision Suite.
Eventually you may run out of available licenses. The solution might be to buy more licenses, but before you order more licenses you might use the detailed logins overview to determine whether obsolete users, e.g. ex-employees, are unnecessarily taking up some of the available licenses. Such 'outdated' users should simply be deleted, which will result in freeing up the taken licenses.